PornTerminator  is a leading porn deletion solution.  This top notch software offers a cutting edge SkinScan algorithm that detects and removes pornography images and video by assessing skin-tone levels and distribution.
Features:
Porn Terminator uses a futuristic algorithm to detect porn on a PC utilizing its SkinScan Technology in order to allocate nudity in images and videos.
In images, Porn Terminator detects skin color. By analyzing the amount of skin and curvaturean in an image Porn Terminator is able to determine whether or not an image is sexually oriented.

In video, various frames are scanned as images and the same procedure defines if an image consists of nudity. Users have the option to configure the settings as to how many frames should be scanned per video.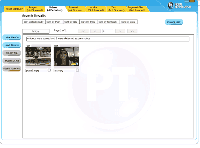 Keyword Scanning – Most porn files usually have obscene names. Therefor, Porn Terminator scans all files for obscene words in their name. The scan includes Internet history files, audio files, text files, temporary Internet files and Microsoft word files. Per internet files, objectionable content is displayed including the date of last visit for Internet history.